My goal is to make humanoid robots walk. Everywhere.
I'm interested in walking pattern generation, a problem that was solved on flat floors and now needs to be taken one step further to walk over arbitrary terrains. In the general setting, simplifications due to coplanar contacts disappear, but we still want all computations to run in a control loop with hard time constraints. My current understanding of this problem, and proposed solutions, are summed up in the following presentation: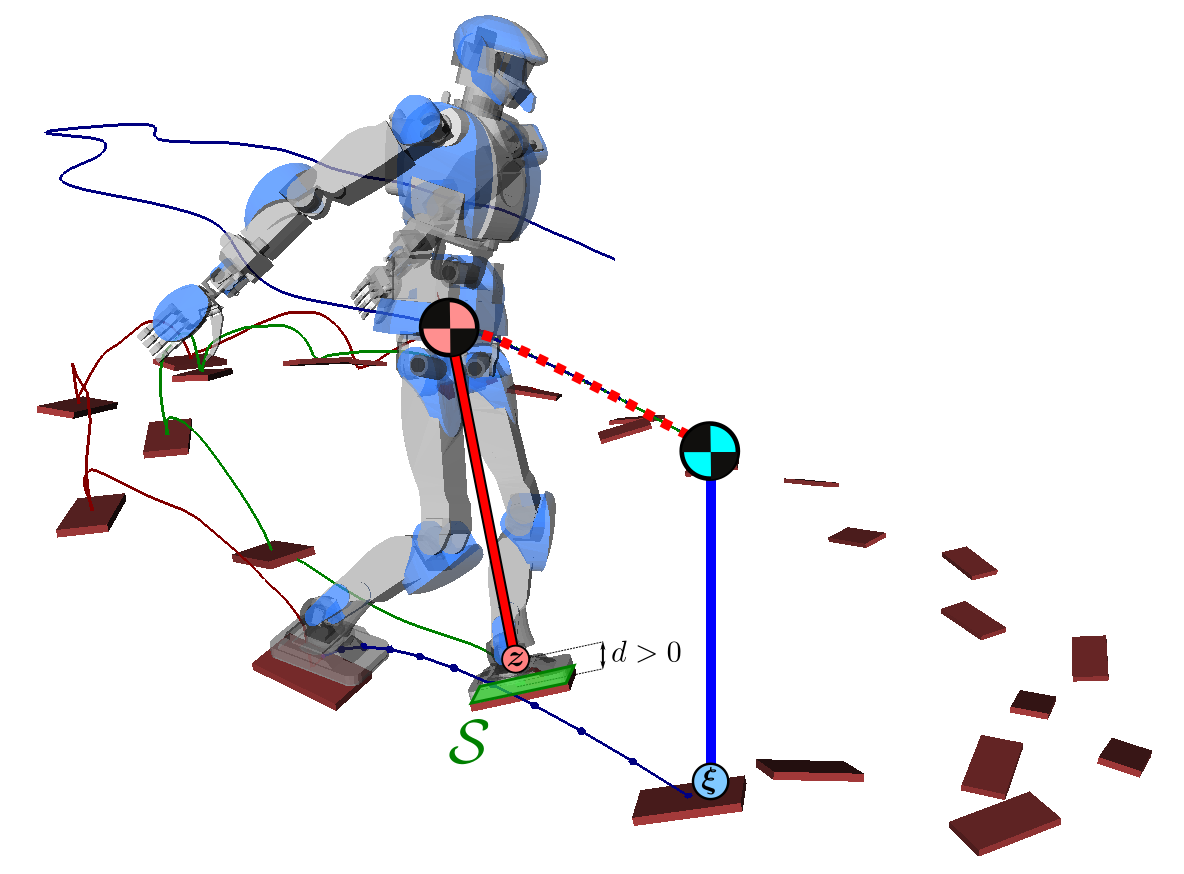 Below is my full list of publications, framed into conference and journal articles. This is the publication system used by researchers in my community today, and it wastes a lot of public money to private publishers. I hope the whole community soon makes the move to the pre-print with epijournal alternative, as other communities (e.g. in machine learning) have already done.
Pre-prints
Balance control using both ZMP and COM height variations: A convex boundedness approach

Stéphane Caron, Bastien Mallein.

(pdf)

Developments for 3D control of the center of mass (CoM) are currently located in two local minima: on the one hand, methods that allow CoM height variations but only work in the 2D sagittal plane; on the other hand, nonconvex centroidal models that are delicate to handle. This paper presents an alternative that controls the CoM in 3D by predictive control of a model with convex constraints. The key to this development is the notion of boundedness condition, which quantifies convexly the viability of CoM trajectories.

Multi-Contact Planning and Control

Karim Bouyarmane, Stéphane Caron, Adrien Escande and Abderrahmane Kheddar.

(pdf)

The essence of humanoid robots is their ability to reproduce human skills in locomotion and manipulation. Early efforts in humanoid research were dedicated to bipedal walking, first on flat terrains and recently on uneven ones, while the manipulation capabilities inherit from the literature in bimanual and dexterous-hand manipulation. In practice, the two problems interact largely. Locomotion in cluttered spaces benefits from extra contacts between any part of the robot and the environment, such as when grippers grasp a handrail during stair climbing, while legs can conversely enhance manipulation capabilities, such as when arching the whole-body to augment contact pressure at an end-effector. The two problems share the same background: they are governed by non-smooth dynamics (friction and impacts at contacts) under viability constraints including dynamic stability. Consequently, they are now ...
Conference articles
Journal articles
Talks
Others
PhD thesis
Patents
I'm not particularly proud of these. Despite stemming from a laudable principle (incenting companies to disclose technological knowledge lest it is lost when the company shuts down), the patent system is presently dead broken, as illustrated e.g. by patent trolls.
System and method for recommending items in a social network

Stéphane Caron, Branislav Kveton, Marc Lelarge, Smriti Bhagat. US Patent Application US-20150199715-A1.

The present principles consider stochastic bandits with side observations, a model that accounts for both the exploration/exploitation dilemma and relationships between arms. In this setting, after pulling an arm i, the decision maker also observes the rewards for some other actions related to i. The present principles provide a method and a system for efficiently leveraging additional information based on the responses provided by other users connected to the user via a computerized social network and derive new bounds improving on standard regret guarantees. We will see that this model is suited to content recommendation in social networks, where users' reactions may be endorsed or not by their friends.

Method for cold start of a multi-armed bandit in a recommender system

Smriti Bhagat, Stéphane Caron. US Patent Application US-20150012345-A1.

(pdf)

A method performed by a recommender system to recommend items to a new user includes calculating reward estimates from multiple multi-armed bandit models of a user and her social network friends. The new user's social network friends have multi-armed bandit models that are well established. The mixed multi-armed bandit estimates are processed to select the arm that maximizes the estimated reward to the new user. The multi-armed bandit arm of the greatest reward estimate is played and the new user responds by providing feedback so that the new user's multi-armed bandit model is updated as time progresses.
Non-robotics research