Abstract¶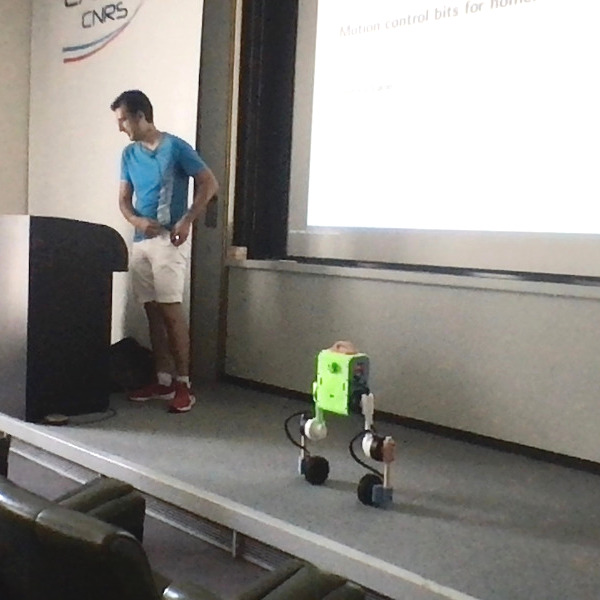 We have learned a lot from big expensive robots, but their weight and price are likely damping further progress. In this talk, we will follow an alternative made possible by recent innovations in actuators: light homemade robots, of the kind that can bump, fall on, or be lifted by us with no harm. By aiming for less actuators and lower complexity, we end up with morphologies that don't fit exactly the bill of previous ideas. This is a good start to revisit them! We will tour some examples from the open source software and hardware of Upkie, a wheeled biped robot that proudly stands on 3D printed parts and sawed broomsticks (among other mechanical marvels).
Transcript¶
The following transcript was initially generated by:



vosk-transcriber -n vosk-model-en-us-0.22 -i audio.wav -o transcript.txt



Thank you everybody, I'm thrilled to be here. Thank you for your warm welcome and allowing me to speak today. This is going to be kind of an informal introduction. It should be really low level and chill, so I hope you enjoy, and don't hesitate to stop anytime if you have questions. [You can also join the discussion and post a comment below.]
Today I would like to tell you about motion control, well motion control in particular because these are questions I'm very fond of, but also homemade robots in general, and what we can do with them.
Discussion ¶
Thanks to all those who have contributed to the conversation so far. Feel free to leave a reply using the form below, or subscribe to the Discussion's atom feed to stay tuned.